Picture This:  The warm blue waters of the Ionian Sea, a 5-star hotel on a private sandy beach in Corfu, perfect weather, great food, free drinks, and an upgraded room with sunset views over the ocean. What could possibly go wrong?
Quite a lot, as it turns out.
The first hint of disaster happened before we'd even left home. I woke on the morning of our departure to 48 notifications from my bank about declined transactions. My card details had been stolen and the thieves started making online purchases at 4am. Luckily, my bank was on the ball and cancelled the card before they had done too much damage.
That wasn't actually the disaster. I was refunded the money they'd stolen within 24 hours.
The disaster was being left a) without the card on a Sunday morning as we were heading to Gatwick Airport for our flight, and b) unable to access all the holiday spending money we'd transferred into my Euro account attached to said card until I had activated the replacement card, which I wouldn't be able to do until we'd returned from our holiday.
Endless phone calls, emails, transfers and juggling of funds later, we got through the catastrophe reasonably unscathed, if not a little stressed. On the plus side, our flight to Corfu was delayed by two hours, so we had plenty of time sitting on moulded plastic chairs at Gatwick Airport to deal with the crisis.
But all that was forgotten on our arrival. We were met by a smiling Corfiot whose name escapes me for the moment – let's call him Yanni – waving a sign with our name on it. Yanni didn't seem at all perturbed about the extra two hour wait he'd had, thanks to Jet Star's scheduling stuff up.  "Kanéna próvlima" (loosely translated as 'no problem') he said, throwing our cases into the back of his car. That's how they roll in Corfu. 
The sun was shining, and Yanni chatted cheerfully to us on the 30 minute journey to our hotel where we were greeted by another smiling Corfiot who whisked our bags away, while a third gave us a champagne cocktail and invited us to enjoy lunch at the beachside restaurant while our (upgraded) room was being prepared.
This was more like it!
Not that I don't like children. . . .
We went to Corfu in October for two main reasons: One, it was cheaper than August, and two, school holidays are over (which is why it's cheaper than August).  It's not that I don't like children, it's just that I don't want to share my relaxing, sun-drenched Corfu holiday with self-righteous tweenies and their browbeaten parents.
Boy, did I overlook one important fact. Sure, school holidays were over, so any squirts over the age of five were safely tucked up in their maths class while we were sipping cold beers around the pool. But it's the under-fives I forgot about. Dear God!
Every parent of every pre-five-year-old in the world checked into our hotel in Corfu in the first week of October 2022. No exaggeration. They were everywhere. I even found one in my soup one evening.
Luckily, the hotel had an 'adults-only' pool. We used it. A LOT.
Not that I don't like food. . .
I just hate buffets. A lot.
We tried arriving at different times to see if it improved the experience. It didn't.
Breakfast was OK. I mean, breakfast is always a bit of a free-for-all and, on the whole, families with under-fives tended to breakfast before us. Blissfully.
It was dinner that caused the most angst.
Too much choice. Not enough of the right things.  Queues for everything you wanted. I always put too much on my plate, picked around the edges of everything and then felt guilty about leaving most of it on the table while I went in search of puddings, which I never eat at home.
Luckily the hotel also had a couple of a la carte restaurants where we ended up on more than one occasion, rejoicing in the bliss of a menu, table service and no toddlers.
And then we got sick
Good and proper, fully blown flu (thought it might have been COVID, but that came the following week – oh joy!)
Half way through our holiday we both came crashing down with achy-breaky, dribbly, sneezy, I-just-want-to-curl-up-and-die, flu.
Worst of all, the day it hit was the same day we'd booked a first-class, chaffeur driven day tour of Corfu with lunch at a beach on the other side of the island. Pre-paid in full, no refund, no cancellation.
So, we went. As you would.
Just take a look at our ten-seater, leather-chaired, people mover, with champagne on ice and a personal driver for six hours. What would you have done?
Our driver (whose name escapes me for the moment – let's call him Yanni 2), kept pressing us to open the champagne. 'Maybe later,' we whispered feebly, as we sped up mountains to look at the view, clambered into boats to explore caves, and tried to look interested on the guided tour of a historic monastery.
Lunch defeated us, though we managed a medicinal cold beer, and Yanni 2 drove us home dejected that we didn't appear to be enjoying ourselves.
We spent the next 24 hours lying on the beach, watching the sunset, avoiding the buffet (and the rug rats), and going to bed early.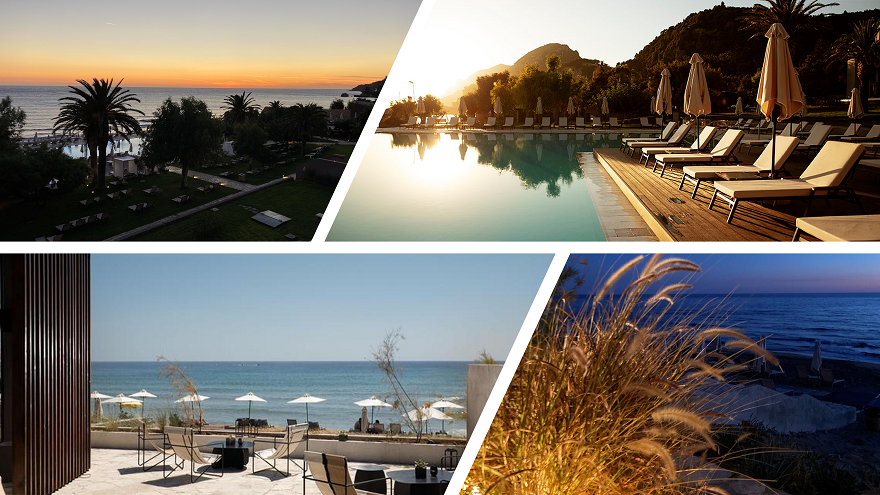 I fear I've painted a very gloomy picture of our Big Fat Greek Holiday Disaster.
But it wasn't all bad.
For instance, we had a couple of fabulous days in Corfu Town wandering the back streets, discovering the endless shops, waterfront restaurants and the best place on the island for Mousaka.
And I wasted several happy hours on the beach with a good book (headphones in, toddlers blocked out).
The hotel was a real treat, and we loved our room with its spectacular ocean views, the free bar (toddler free as well as complimentary drinks!), and the choice of la carte restaurants, when we finally escaped the horrors of the buffet.
So, we reflected on our week in Corfu, as we packed our bags ready for a morning departure the next day, and decided it hadn't been all bad.  In fact, overall – and notwithstanding the toddlers, flu, buffet, stolen credit card, and delayed flight – we'd had a bloody good time.
Then, at 2.45 that night, the fire alarm went off. Twice.
Efcharistó, Corfu. We'll still probably come back again.